If you're searching for food storage ideas for hospitals Australia, Pac Food has countless solutions to suit your needs.
Our commercial grade food packaging supplies will not only meet the needs of your busy hospital kitchen, but they're also cost effective and environmentally-friendly (wherever possible).
We are also renowned for our "never out of stock" policy, giving you peace of mind that you won't have any trouble getting your hands on our high-quality packaging options.
For help deciding on the best products for your hospital kitchen, learn more below or give the experienced Pac Food team a call today on 1800 823 200.
Hospital Food Storage and Preparation Ideas
Adequate food storage is very important when you are cooking for vulnerable patients, who may have specific dietary requirements and low immune systems.
With a varying number of mouths to feed, it's much more cost effective to plan ahead, batch cook, and store leftovers in packaging to ensure shelf life is extended.
Here are some of the top Pac Food products we find are very effective for use in Hospitals.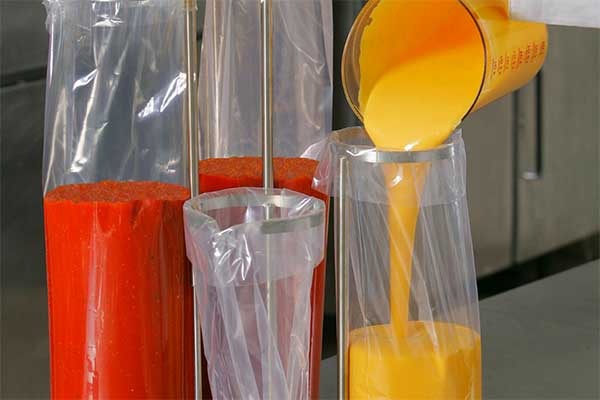 Our Cook Chill Bags were specifically designed a few years ago to extend the life of wet dishes like soups and sauces.
The Pac Food bags and equipment allow you to make those types of dishes in larger volumes and less frequently.
That means you can save money by purchasing food items in bulk and using (and cleaning) your kitchen less often.
Our Cook Chill Bags come in a number of sizes, have extra barrier for longer shelf life and are very strong.
Find out more about the Cook Chill method on our website here.
If you want a food packaging solution to extend the shelf life of your dry and wet food, then our Vacuum Sealing Bags will impress.
The longer shelf life is possible when you use an "in chamber" vacuum sealer, where the oxygen is removed from inside the bag.
This means you can buy in bulk, seal your items and keep food fresher for longer (including dry goods), saving your kitchen time and keeping procurement happy with reduced food costs.
For more information about how our vacuum sealing bags can improve the shelf life of food, head to our blog here.
When you are delivering food to rooms around the hospital or storing items ahead of preparation or meal time, you can't go wrong with our trolley covers.
They are freezer proof, and ensure the food is completely covered, and thus protected, in a matter of seconds.
The covers are also biodegradable, making them an environmentally friendly option when compared to cloth covers or cling wrap.
Pac Food's biodegradable trolley covers are made out of strong, low-density plastic, meaning the trolley's contents are visible. Easy to dispense stainless steel wall-brackets are also available to buy.
4. VFFF (Vertical Form Filling Film)
Pac Food also stocks vertical form filling film if you use this process for packaging both solid and liquid hospital meals.
We have both coextruded and laminated film available at very competitive prices.
Find out more about our film here.
Other Pac Food products for Hospitals
Here are some other Pac Food products that could be very useful in a hospital environment.
· CPET Trays and Lidding Film
· Pan Savers
· Scrub Saver Bain Marie Liners
· Biodegradable Piping Bags
· Biodegradable Pan Covers
· Core Temperature Valves
· Euro Bin Covers
· VS820 Commercial Vacuum Chamber Machine
Food Storage Ideas for Hospitals Australia
If you need expert advice on the best food storage solutions for your hospital kitchen, which are sure to improve efficiency and save you money, contact your local Australian supplier Pac Food today on 1800 823 200.

Pac Food is committed to providing customers with the best products, best prices and best customer service. Perfect for domestic use – whether you love fishing, camping or buying meat in bulk – and even small food & beverage outlets such as cafes.
Take advantage of our easy and secure online ordering system. View our extensive range of bags, rolls and vacuum sealers here. Don't forget to keep an eye on our specials section – updated regularly – or view our range of combo deals to suit every budget. Got a question?  Contact us and we'll be happy to help.